No matter who you are and where you are, Sunday seems to be a day of relaxation. It's like it's a general consensus as to how people feel about Sundays and how they should be enjoyed. As a Christian, I know I grew up learning about Sunday being a day to spend worshiping God and resting. In the Bible, it's supposed to be Saturday that is the Sabbath and the day of rest, but that is what we all did as Southern Baptists growing up.  By the way, check out my church.
Sunday is also the day before the work week begins for millions of people. No matter how you spend your weekends, it's usually a break from work and a busy week of whatever type of business you have going on. Culturally speaking, we all let loose on the weekends a little, which is 'supposed' to be relaxing. However, many of us end up doing a little too much and need a vacation from the weeks' vacation so to speak. That is where Sunday comes into play.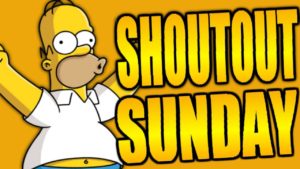 Sunday makes a great day for rest. You can go to church and relax, sleep in, take it easy and all that good stuff. People know what is coming the next day, and they know it's their last chance to really take it easy. If nothing else, you can go to sleep early to be fully rested for Monday morning and what all that day means for you. Sunday is also a nice day for an afternoon siesta.
Some families like to take a picnic to the park on Sunday, and others like to take in a movie. How I spend my Sunday depends greatly on how the rest of the week has gone. You likely do the same thing, as you never know what a week is going to bring. I bet whatever you do involve relaxation and something you enjoy. Just like you don't know how a week is going to shape your Sunday, you don't know what the next week is going to bring either.
You have your plans, and sometimes that's what you might want to leave out on a day like Sunday. The world is always moving so fast, and it's so loud. Wouldn't you like to slow down and let a little of it simmer down when it comes to your point of reference anyway? Of course, too much down time can be boring for some people.
It's not that you can't get out and have some fun on Sunday. Just make sure you have a little time to wind down. You can wind down during the afternoon like we used to do after church. Or, you can wind down in the evening. How does a backyard Sunday barbecue at home sound? Maybe you don't want to cook, and you'd rather go out for a dinner and come back for a Sunday evening nightcap. It's up to you how you want to spend your Sunday, but again, make sure you get that relaxation time in while you're enjoying your day. Monday comes around very quickly!
So what is your favorite way of spending your Sundays?  Let me know in below comments!  Peace out!